for Grand Theft Auto: Liberty City & Vice City Stories PSP
The original CheatDevice by Edison Carter was one of the first homebrews ever to run on firmwares 2.01, 2.5 and 2.6! It had a big fan base and lots of functionality added over time. Sadly the Liberty City version wasn't updated and thus missing out on fixes after Vice City Stories' release etc.
After over 15 years later, with this remastered version (remake actually) I re-created the whole project from ground up whenever I had some freetime. It is one plugin for both Stories Games now and compatible with all versions!! (excluding the Japanese releases)
| | | |
| --- | --- | --- |
| Original | | Remastered |
When booting the game it will take a little longer to start as thats where all the magic happens. Once in-game, just like with the original, the menu can be opened and closed by pressing L + UP. And when saving your cheat preferences from the menu a config file will be created which automatically re-loads everything the next time you start the game. But there really is so much more so why don't you go take a look yourself..
Happy Cheating! :)
Changes & new features
Aside from my own discoveries re-creating everything, lots of functions that were previously only available via UserCheats were added as default ones. Due to all these new options, categories were added as well as the menu adjusted to scroll instead of using pages. These are the major and most noteworthy new functions:
Improvements to the original:
now works with all game versions (except JP)
now works with High Memory Layout & other plugins
navigating the menu will not affect game controls
now utilizing the games fonts & blocking UI elements
getting names & texts directly from memory
expanded & enhanced HexEditor
no more menu flickering!!
lots of fixes & improvements
...
New Features:
skipable Intro Movies
Character Model swapping
completely disable traffic and pedestrians
FreeCamera
Map & MiniMap options
Speed'O'meter
makes German version uncut again
Pickup & Vehicle spawner
real random loadscreens!
advanced Editors for stats, settings etc
UserScripts
...
But.. Why?!
As a child I loved playing with the CheatDevice and seeing this menu loaded via a simple savefile was like dark magic to me.. So I swore myself to understand and learn how to achieve this myself someday. Over the last years I worked on this little project whenever I had some freetime on & off. I am surely no expert in C or reverse engineering but this project helped and I learned a lot. I never intended to release this initially but why keep it for myself. I bet one or two nostalgic oldtimers might have some fun with this just like me.
Gallery
To-Do / Priorities:
| Done (will be in next release) | In progress |
| --- | --- |
| | |
Next up
Low prio
Maybe
outsource strings #translations
further fill Editor(s)
fix power jump
better Hover Vehicle controls
Multiplayer Cheats
Search Memory function
disable Vehicle Side mission
initiate screen with progressbar
bring back "Snow-Mod"
remove LC's ocean pipes visually
Freecam for cutscenes
multiplayer patches for xlink
First Person Camera

User Cheats txts
Savegame load control
real custom music support
texture replacement system
file redirect system
Known Bugs
resetting water level in VCS keeps lower areas flooded. (backup / reload needed)
health- / damage-bar overflow in missions with Health / indestructable cheats
heavy player cheat breaks boat physics
starting LCS multiplayer on PSP/Vita might fail if host starts match on same island
soundbugs with 60FPS cheat on PPSSPP


Best Experience
Although this plugin is designed to work with all game versions, models and settings the following setup will grant you the best experience possible.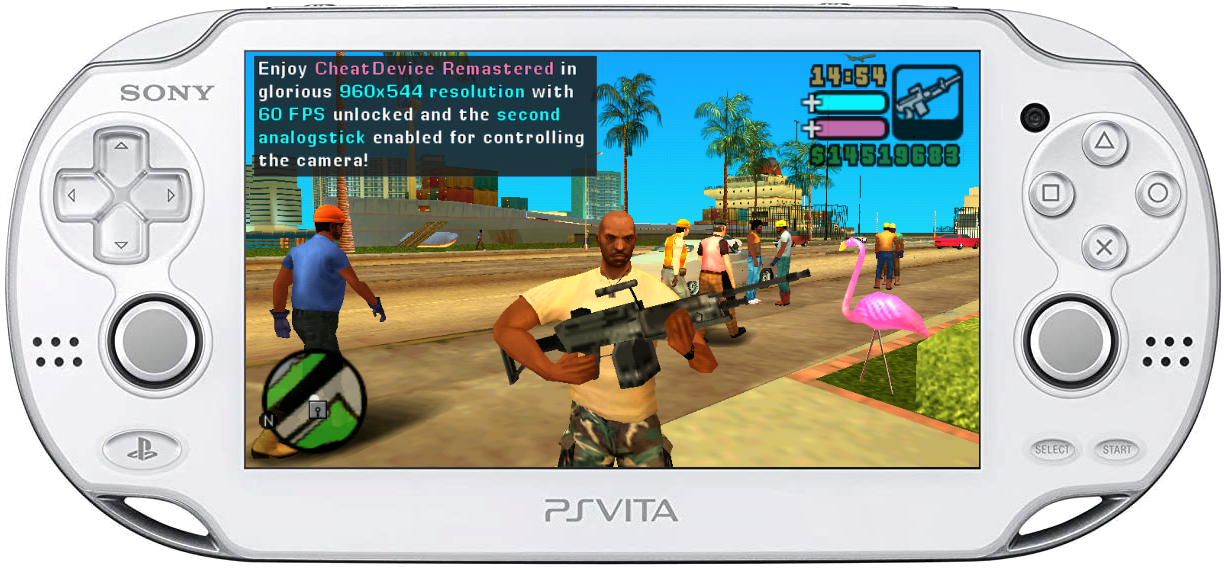 Vita OLED model + Adrenaline eCFW + GTA Remastered prx + GTANativeRes prx + High Memory Layout + 333mhz Game clock + 60 FPS Cheat
For PPSSPP it is highly recommended to install the right analog stick camera control plugin as well! (alternatively use: LCS & VCS)
Thanks & Greetings to
Edison Carter, vettefan88, Waterbottle, Jeremie Blanc, ADePSP, Joek2100, Sousanator, Rasal, joek2100, PSPHacker108, Mister Enchilada, Durka Durka Mahn, Skiller, theY4Kman, Noru, KING_REY-S, thehambone, the NSA, gtaforums.com, gtamods.com, gtamodding.ru, aap, firehead, TheFlow, Silent, neur0n, Samilop "Cimmerian" Iter, darkdraggy, hrydgard, unknownbrackets, Micsuit, NielsB, metehan989, DenielX ..many more and everyone else from back then contributing and supporting!
| | | |
| --- | --- | --- |
| Contact / Support: | Download: | UserScripts: |